egtCAM5 WOOD is the software for the design and processing of wooden parts, withgeneric geometry, both 2D and 3D, to be machined on CNC machines with 3 to 5 axes.
2D elements (including lines, arcs, circles, chamfers,
fillets, polygons, texts…).
3D elements (including surfaces, regions, extrusions,
revolutions, swept…).
Creation and management of parts and layers.
Edit tools (including union, explosion, extension, cut,
curves height, color and transparency management,
layer change…).
2D and 3D transformations (including translation,
rotation, mirroring, scaling, offset…).
Quick setting of drawing grids parallel to the
reference planes.
Setting drawing grids by three points, in a plane
orthogonal to a curve in a given point, positioned
on a 3D geometric entity.
Translation of the grid and possibility of determining
its origin.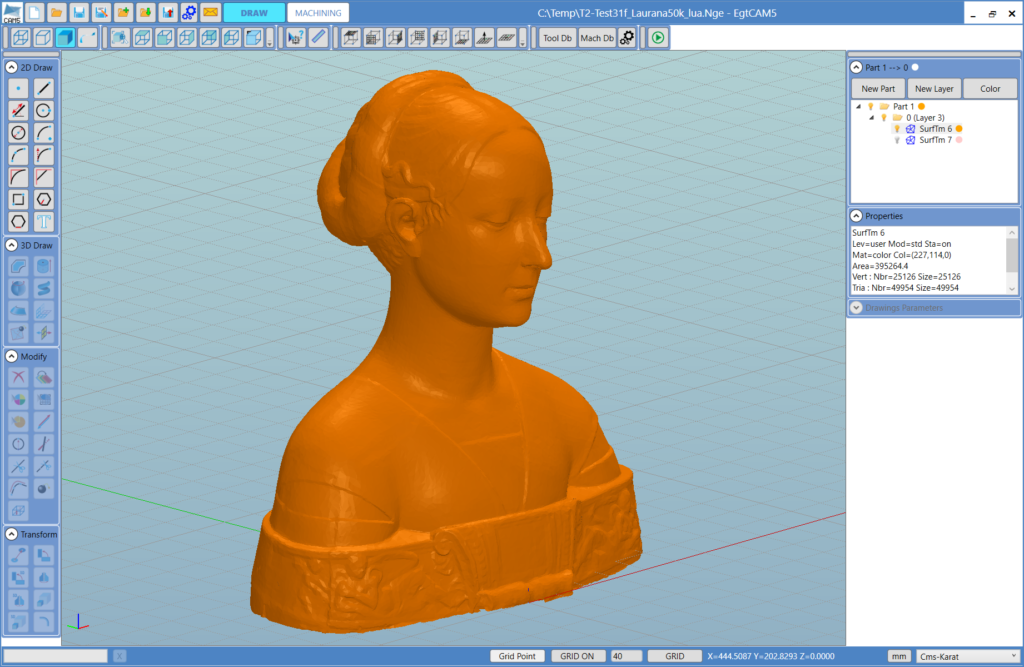 Import of geometric models
Standard formats: dxf, stl, IGES, STEP.
Other formats: ACIS, PARASOLID.
NC file: cnc, mpf, xpi.
Points file: pnt, xyz.
Images: png, jpg, jpeg, bmp.
Tool libraries and Processing management
Tool library: drill bits, milling cutters, blades, chisels,
chain mortisers…
Parametric drawing of tools.
Creation, modification and saving of tools setup.
Machining library: drilling, milling, sawing, contouring,
pocketing, surface roughing, surface finishing,
chiseling, mortising…
Management of machining parameters, including
radial and longitudinal offset, tool compensation,
machining side, safety distance, overlap, step type,
lead in and lead out parameters…
Choice of tool for each machining in the library
and customization of tool parameters for each one.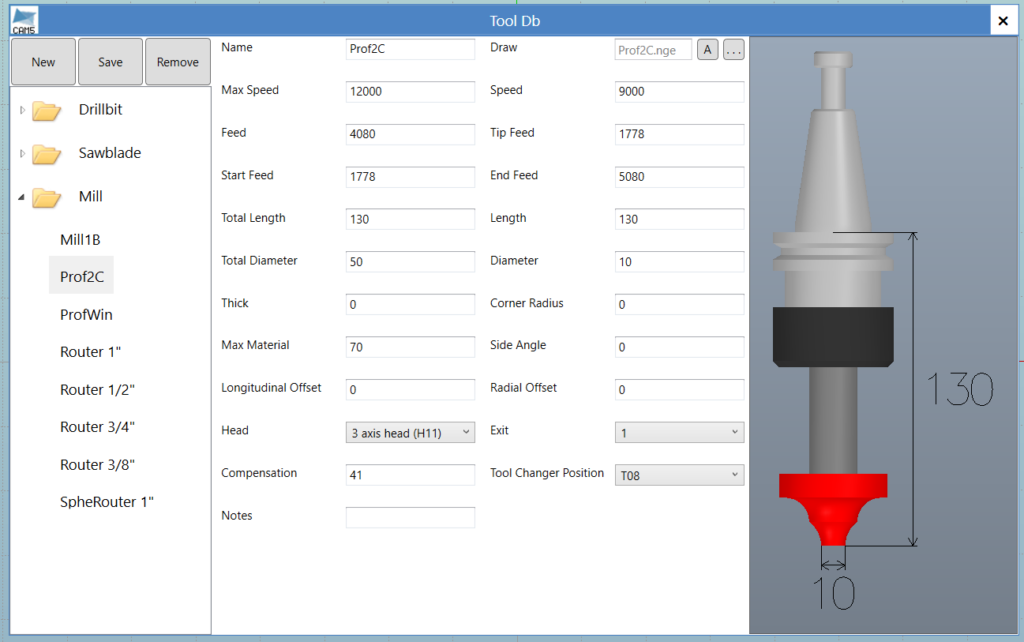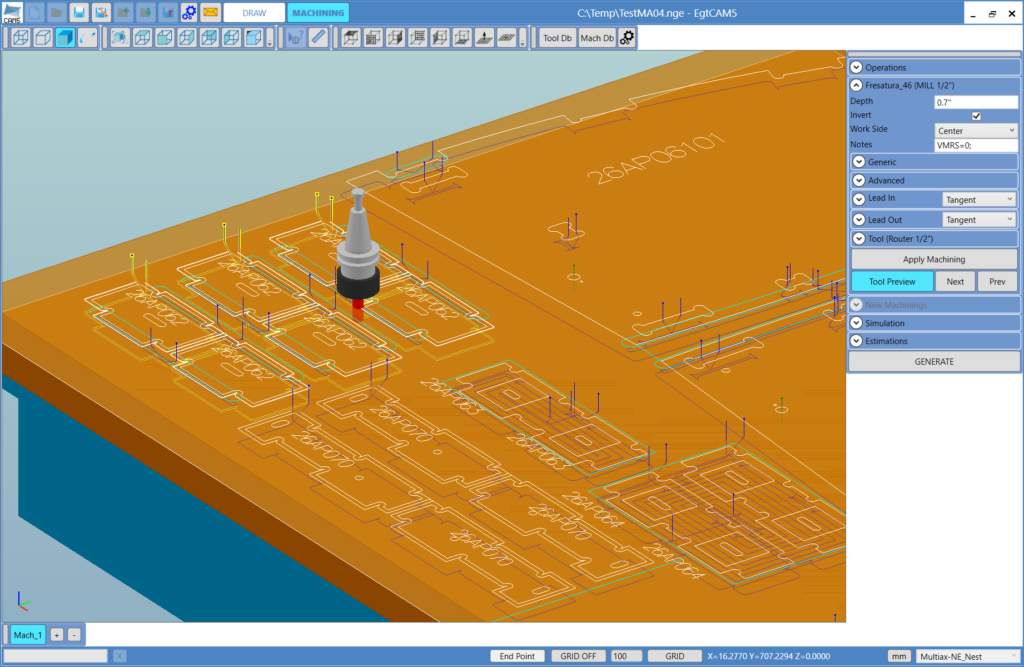 Definition and positioning of one or more raw parts
on the machine table, eventually with fixtures.
Positioning of parts in raw parts with manual or
automatic nesting.
Manual or automatic application of the machining
to the geometries on paths and surfaces.
2,5 axis machining for panels and such.
3 axis machining for low reliefs, plaques and such.
3+2 axis machining for doors, beams, windows
and such.
5 axis machining for generic parts (eg. chairs,
design objects, sculptures…).
Specific machine model creation for machining
simulation that stays true to reality.
Virtual milling to verify the finished part appea-
rance.
Collision check between tools, parts, machine fixed
parts, machine mobile parts.
Estimate of machining times and tool consumption.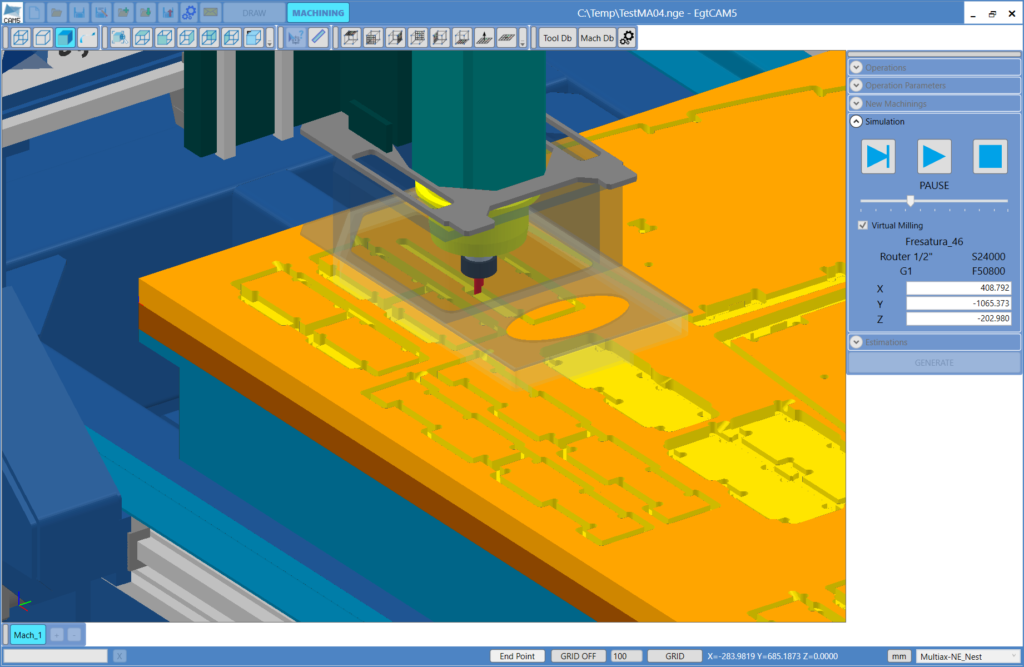 Production management and Industry 4.0
Integration with the company management system.
Specific solutions for the management of machines
and production cells and for part and lot traceability
throughout the process from design to realization.
If you need more info about EgtCAM5, please fill up the form and we will contact you as soon as possible